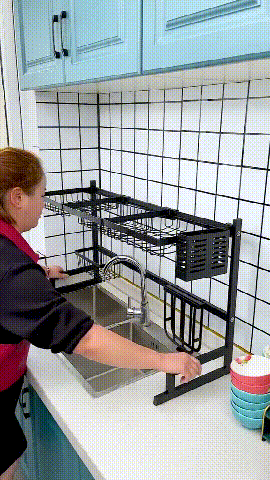 Introductions:
Dish drainer is a commonly used item among all households. With it, you will make full use of space in your house. Our Stainless Steel Single Layer, Inner Length 92cm Kitchen Bowl Rack Shelf is highly recommended for you. With meticulously plating surface process, this dish drainer is in sleek appearance and polishing gloss. Made of high-grade material, it is of great durability and reliability to sustain bowls, spoons, chopsticks and dishes etc. It is well classifying and easy reaching. Would you like to buy one for your own? 


Features:
1. Special surface treatment, polishing gloss and sleek surface
2. Good durability for sustaining bowls, spoons, chopsticks and dishes well
3. Designed for clear organization
4. Save room for making your space more neat
5. A must-have for each household


Specifications:
1. Material: Stainless Steel
2. Style: Single Layer,Double Layer
3. Color: Black
4. Net Weight: 9.66lbs / 4.38kg,15.43lbs / 7kg
5. Dimensions: (37.4 x 11.02 x 21.65)" / (95 x 28 x 55)cm(L x W x H),(37.4 x 11.02 x 31.5)" / (95 x 28 x 80)cm(L x W x H)



Package Includes:
1 x Tank Shelf
1 x Instruction Manual
1.1 Where is the warehouse address?
Currently in the United States there are: US East Warehouse-New Jersey, US West Warehouse-California, South America Warehouse-Atlanta.

1.2 What kind of express delivery?FREE SHIPPING
In the US, express delivery is mainly Fedex, USPS, UPS, etc.

1.3 How about the timeliness of delivery and logistics?
After placing the order, it is estimated that the shipment will be arranged within 24 hours, and the delivery will be completed within 2-8 days. FREE SHIPPING
Black Single LayerBlack Double Layer
Black Double Layer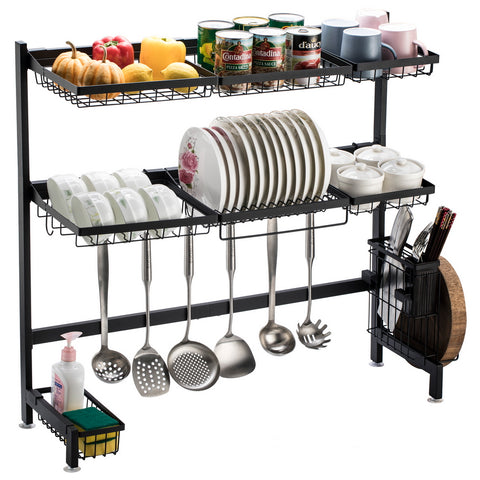 VIPBESTHOME.shop offers a 100% Worry-Free Quality Guarantee on all Kitchen Bowl Rack Shelf. If, for any reason during the first 45 DAYS you are not happy with an item you received from VIPBESTHOME.shop, we will gladly accept returns and exchanges.